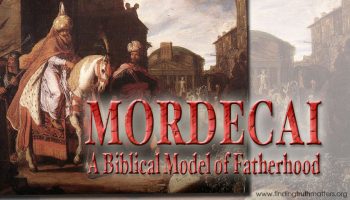 The Book of Esther is controversial Biblical book. Why is it in the Bible? There is not even a direct mention of "God" in it. This has led some to question whether it even belongs in the Bible. But what these critics have missed is one of the most profound messages from God in all of Scripture.
While the book of Esther is obviously about Esther, it is also rich in Biblical allegory about God and His relationship with His people. But what is not immediately obvious is that this book is very prophetic. It describes how God was to end His Old Covenant and establish a new one. All the while, the characters in this pivotal story unwittingly reveal some amazing truths about God, family, and the relationship between religion and politics.
VASHTI WAS LIKE ISRAEL
But Queen Vashti refused to come at the king's command delivered by the eunuchs. At this the king became enraged, and his anger burned within him.
Esther 1:12
The Book of Esther, like the Song of Solomon, deals with a national picture that is often overlooked by commentators. The characters in the story of Esther's rise to glory played allegorical roles which paralleled Israel's relationship with the LORD, and God's plan to have a New Covenant people.
Like any good story, the author introduces us to the main characters. We are firstly introduced to King Ahasuerus, who is a type of God. We are then introduced to the recalcitrant Queen Vashti who is a type of Old Covenant Israel. Like Israel, she is enjoying the privileges and benefits of King, but is not prepared to obey the King. This was Israel's condition. This was why they were in exile in Persia. Some commentators justify Vashti's disobedience by claiming that she rightly refused to come to the King because he was trying to humiliate her (by demanding that she appear naked). But there is nothing in the text that justifies this presumption. The text simply presents Vashti as disobedient. The reader of the book of Esther should pause and ponder whether they too are guilty of Vashti's sin. Are we too enjoying the benefits of God's favour without enjoying God Himself? Are we prepared to obey God when He summons us?
¶ "O Jerusalem, Jerusalem, the city that kills the prophets and stones those who are sent to it! How often would I have gathered your children together as a hen gathers her brood under her wings, and you would not!"
Matthew 23:37
Like Israel, Vashti was banished for her disobedience.
HADASSAH, A TYPE OF THE CHURCH
¶ After these things, when the anger of King Ahasuerus had abated, he remembered Vashti and what she had done and what had been decreed against her. Then the king's young men who attended him said, "Let beautiful young virgins be sought out for the king.
Esther 2:1
The King had banished and divorced Vashti. God had also divorced and banished Israel.
She saw that for all the adulteries of that faithless one, Israel, I had sent her away with a decree of divorce. Yet her treacherous sister Judah did not fear, but she too went and played the whore.
Jeremiah 3:8 (See also Isaiah 50:1)
Like King Ahasuerus and his outrage over Vashti, God's decision to banish Israel came only after His patience had been tried because of their repeated disobedience.
My God will reject them
because they have not listened to him;
they shall be wanderers among the nations.
Hosea 9:17
King Ahasuerus ordered that new bride be sought out. After God had divorced Israel, He declared that He would also have a new bride. In the pathetic story of Hosea, God uses this willing servant to live out His own tragic relationship breakdown with unfaithful Israel and declares that He would put them away and that the day was coming when He would take a people who were currently not His people and He would make them His people (Hosea 1:10). Then the Lord declares-
And I will betroth you to me forever. I will betroth you to me in righteousness and in justice, in steadfast love and in mercy. I will betroth you to me in faithfulness. And you shall know the LORD.
Hosea 2:19-20
Hadassah, Esther, was chosen to be among the finalists in contention to become the wife of King Ahasuerus. She had been orphaned early, but was raised as his own daughter by her much older cousin, Mordecai. Although he was probably childless, he has gone down in history as one of the greatest "fathers" the world has ever seen. He raised Esther to be a beautiful, pure, godly, submissive, devout, young lady. Many parents today would like to know how he did it! Mordecai is type of a pastor who, like any good pastor, has given up his life for his "children". There was someone in the New Testament who was also childless, but also a great father-
For though you have countless guides in Christ, you do not have many fathers. For I became your father in Christ Jesus through the gospel.
First Corinthians 4:15
But you know Timothy's proven worth, how as a son with a father he has served with me in the gospel.
Philippians 2:22
There is an old German saying that says Es ist einfacher, einem Vater als zu stehen, einer zu sein (It is easier to become a father than it is to be one). There are many men who have fathered a child but are not fathering that child. Mordecai was a father to Esther. Notice what he had achieved by the time Esther was a young woman. He had built a good communicating relationship with her. This communication may have left Esther with a sense of being very special to God and having a unique destiny because later we read of Mordecai sending a message to her that seems to her remind of this.
For if you keep silent at this time, relief and deliverance will rise for the Jews from another place, but you and your father's house will perish. And who knows whether you have not come to the kingdom for such a time as this?"
Esther 4:14
When Esther was selected for the King's Harem, we learn something insightful about Mordecai's fathering. Firstly, he counseled Esther. Fathers counsel their children.
Esther had not made known her people or kindred, for Mordecai had commanded her not to make it known.
Esther 2:10
Secondly, he visited Esther continually. Fathers take initiative and get into their children's world (do you know the names of your child's school teachers?). Thirdly, during these visits, Mordecai sought to learn about Esther's progress. Fathers studytheir children.
And every day Mordecai walked in front of the court of the harem to learn how Esther was and what was happening to her.
Esther 2:11
Esther is a type of the Church, the "Israel of God" (Galatians 6:16). Like King Ahasuerus who had put away his first wife, God had put away His wife (Israel), and like Ahasuerus, declared His intention to have another wife. God's new bride would not be the earthly Jerusalem but one whose names were registered in a different Jerusalem-
But the Jerusalem above is free, and she is our mother.
Galatians 4:26
But you have come to Mount Zion and to the city of the living God, the heavenly Jerusalem, and to innumerable angels in festal gathering,
Hebrews 12:22
The one who conquers, I will make him a pillar in the temple of my God. Never shall he go out of it, and I will write on him the name of my God, and the name of the city of my God, the new Jerusalem, which comes down from my God out of heaven, and my own new name.
Revelation 3:12
HEGAI, A TYPE OF THE HOLY SPIRIT
So when the king's order and his edict were proclaimed, and when many young women were gathered in Susa the citadel in custody of Hegai, Esther also was taken into the king's palace and put in custody of Hegai, who had charge of the women.
Esther 2:8
But perhaps the thing that Mordecai did that all fathers, wanting the will of God for their children, have to do is: he trusted the King's assistant to beautify his daughter. Although already beautiful, Esther was beautified by the King's agent, Hegai. God's agent in the beautification of His people is the Holy Spirit. Hegai applied perfumes and cosmetics to Esther for a period of about a year. Esther could have objected to this seemingly unnecessary process. In a similar way, many "good" people fail to see why they need saving. But the Christian must submit to the Holy Spirit's process of beautifying. He has a goal of making us resemble the most Beautiful One.
For those whom he foreknew he also predestined to be conformed to the image of his Son…
Romans 8:29
The New Covenant believer must walk "in the Spirit" (Romans 8:9). As he does, he will hear the Holy Spirit prompting him to obedience. He will sense the Holy Spirit correcting and convicting him. He will encounter the Holy Spirit bringing abrasive people into his life to smooth out his roughness. And most potently, he will recognise the Holy Spirit placing him into a community of fellow believers who will offend him and therefore provide opportunities for him to learn to forgive and forebear and thus become more like Christ (the next time you feel like leaving your church, you may well be running out on a vital work of the Holy Spirit in your life).
HAMAN, A TYPE OF SATAN
The Amalekites seemed to be genetically opposed to God's people. Joshua led Israel in their first battle which was against a surprise attack from the Amalekites (Exodus 17). After this, God declared that justice must be done regarding the Amalekites. But despite ensuing battles by judges and kings, including Saul and David, the Amalekites were not removed. Although, when the time was right to do it, the Prophet Samuel had King Saul go into battle against them with the simple instruction: destroy them all – even their cattle (1Sam. 15:2-3). And Saul nearly did. It appears that when he spared King Agag of the Amalekites, that he had also spared some of Agag's family who appeared to have escaped. Then we are introduced to Haman-
¶ After these things King Ahasuerus promoted Haman the Agagite, the son of Hammedatha, and advanced him and set his throne above all the officials who were with him.
Esther 3:1
It seems that Haman, who is a type of Satan, was a descendent of King Agag of the Amalekites. Like Satan, this Haman despised God's people. He orchestrated a plot to wipe them out. Satan is also trying to wipe God's people out today. But as the story of Esther arises, Haman meets is demise. Firstly, he is humiliated when he was made to march Mordecai through the streets of Susa. Similarly, Satan was humiliated when Christ triumphed over him on the Cross.
And you, who were dead in your trespasses and the uncircumcision of your flesh, God made alive together with him, having forgiven us all our trespasses, by canceling the record of debt that stood against us with its legal demands. This he set aside, nailing it to the cross.
Colossians 2:13-14
The final destruction of the Amalekites happened not at the hand of a great warrior-king, but at the orchestration of a young Jewish lady: Esther. This victory is still celebrated today by Jews (the "Festival of Purim"). But this strategically important victory would not have been possible if it had not been for the masterful fathering of Mordecai. At the moment when Queen Esther needed the courage to act, she needed metaphysical strength. It was this time that this First Lady knew who she could trust and call upon. She asked Mordecai to pray for her. Today, Christian leaders need to build bridges of trust with political leaders and governing rulers. When they need courage to do the right thing at the right time, I hope they know who to call. How many of us actually pray for our political leaders? How many of our Christian leaders have taken the time to prepare "for such a time as this"? All too often the only time politicians hear from Christian leaders is when they want to protest against something! God knows we need people in power like Esther- who have been groomed by wise and loving pastor-fathers. But God only knows how much these political leaders need people like Mordecai to pray for and counsel them when they need courage the most.
MORDECAI, A MODEL MAN
It may not have been convenient for Mordecai to become a father to Esther. Real men rise up to their responsibilities when there is a need for commitment. He may not have had the means to support an extra mouth in his home, but he would have taken measures to ensure that he could. Real men are responsible men. Rather than run away when they are put under pressure, they step up! Rather than seeing his role as a Dad as an inconvenience, he seems to have regarded it as a priority. Dads need to regard their fathering as being of world-importance! Mordecai's efforts in raising his daughter changed the world! But his fathering role didn't end when she married. But it did change.
Mordecai changed from being someone who could command his daughter to one who counseled his daughter after she was married. But we see something quite rare in Mordecai that many of us would love to see in more fathers: he cared for his community not just his family. Mordecai was passionately concerned about the plight of his people. He took a keen interest in politics. But not the kind of petty party politics we see today, his political interest was in the genuine welfare of his people.
¶ When Mordecai learned all that had been done, Mordecai tore his clothes and put on sackcloth and ashes, and went out into the midst of the city, and he cried out with a loud and bitter cry. He went up to the entrance of the king's gate, for no one was allowed to enter the king's gate clothed in sackcloth.
Esther 4:1-2
The result was the urged the Queen to take political action on behalf of their people. She in turn requested prayer. What a wonderful thing it would be to have a church genuinely concerned about the people of its community, and prayerful for its political leaders as well! All too often when a pastor speaks of issues beyond his own church he is shouted down for trying to mix religion and politics – and often this is loudest from within his own church! But God is concerned with more people than we realise. And so should we be! At a time when other voices are silent on behalf of the community's welfare, the church should not be. Mordecai the pastor became courageous and prophetic when the occasion called for it-
Then Mordecai told them to reply to Esther, "Do not think to yourself that in the king's palace you will escape any more than all the other Jews. For if you keep silent at this time, relief and deliverance will rise for the Jews from another place, but you and your father's house will perish. And who knows whether you have not come to the kingdom for such a time as this?"
Esther 4:13-14
I think more dads should be like Mordecai. I think that churches can be like Mordecai. I know that as a pastor, and father of 4 children, I certainly want to.
Dr. Andrew Corbett
September 10th 2009, writing from Scamander, Australia.
This article may be copied and distributed if due credit is given to the author, the article is not altered, and the website- "http : // www . findingtruthmatters . org" – is hyperlinked or referenced.