True For You But Not True For Me
True For You, Not True For Me!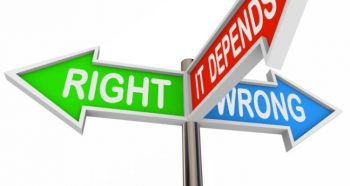 Have you ever heard someone say, "That may be true for you but it's not true for me!" It's the kind of sentiment which might be appropriately limited to our experiences and our emotional responses to them, but it can not be true about those issues which effect us all, known as universals. These include what we consider to be morally right or wrong, whether a fact is true or false,  or whether we should regard something as either good or bad. For example, one of the universal laws that is not subject to personal opinion is gravity. Someone may disagree with it, but their disagreement doesn't change its reality.
The kind of judgment needed to distinguish right from wrong, true from false, or good from bad, must allow for those things which are universal and thus common to all. This kind of truth, what Francis Schaeffer called 'true truth' is also not subject to context, circumstances, popularity, or fashion (Beckworth & Koukl 1998, 20). Neither is it restricted to a time or place. Thus, what can be known as true has generally been acknowledged as such down through the ages by various peoples located in different parts of the world. Philosophers refer to this kind of truth as…
[Click here to read the full article]
Dr. Andrew Corbett